TAKE ADVANTAGE OF OUR

50% OFF

EXCLUSIVE PRICE SLASH- TODAY ONLY!
THE BEST AID TO PROTECT YOUR MEMORIES AND NECESSARY DOCUMENTS!
Get organized and protect your memories with the amazing Document Organizer!
-
Your important needs are kept perfectly safe in just one bag.
✔ High quality oxford fabric for durability and long-lasting use 
✔Built with two layers with multiple, different-sized compartments 
✔Easily accomodate documents, certificates, files & more!  
✔Keep your files safe, tidy, and well organized with this highly accessible
Document Organizer!
BUILT WITH DOUBLE SECURITY DESIGN!
Protect your private and top-secret files and be ready to get it conveniently!
Get the
security and protection you need for all the files, photos, objects! 
Three Digit Password Lock Design
Protect your privacy with a three-digit password lock, Three-digit password lock design ensures that your contract, card, certificate, conference materials, passports, etc. are not lost, which lets you feel at ease! The factory original password is: 000. You can press and hold the PUSH button to adjust the password you want to set. Do not release the button during setup.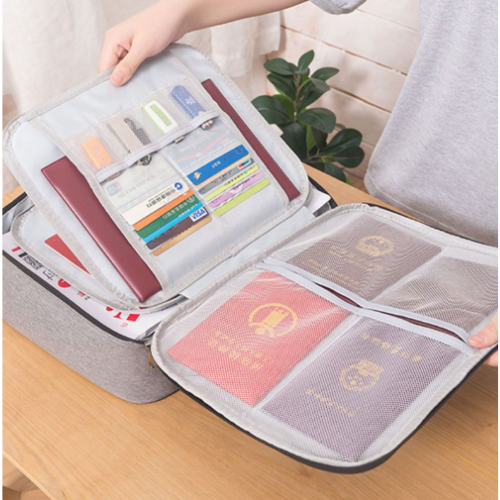 Multi-Functional And Waterproof
A high-quality waterproof bag which ensures that your documents are protected from dampness or water damage. Prevents any physical damage with its solid structure! Its portable, compact design means you can easily store it in cabinets and more. 
Now you can conveniently keep and organize your important working or school documents, passport, memories and photos, and electronics accessories in one place! 

Organize Well, Anywhere, Anytime! 
The handle design on the back allows you to insert a suitcase handle. Keep all your important things organized, in one place and ready to go. It's the perfect organizer to keep everything within reach for your home, office or when travelling.  
Be safe from any situation you can imagine with the incredible Document Organizer.
Product Specifications:
Material: Oxford Fabric
Color: Gray
Dimension: 37 x 10.5 x 27cm / 14.57 x 4.13 x 10.63in 
Package Includes: