ENJOY PERSONAL GUA SHA MASSAGES AT HOME!
SCRAPING | CUPPING | HEATING
'Dr. Rejuvenate - Gua Sha Massager' is a 3 in 1 function portable massage device. It can be used for cupping, 'hot stone' massaging and scraping.
It can help promote body detoxification and blood circulation, eliminate toxins through body circulation and scraping.
Customers have told us that this device has changed their lives!
Say goodbye to neck and shoulder pains - no expensive visits to the clinic every week!
Get restful sleep and be full of energy with this device that promotes relaxation and rejuvenation.
SEE A DIFFERENCE IMMEDIATELY
Look and feel the difference.
It's easy to see that the cupping marks faded after a few days, but their effect doesn't.
Just 15-20 minutes per day and the result will be unbelievable! 😱
"I purchased it for my legs because I'm starting to get spider veins and have poor circulation and the manual cupping wasn't working for me. I've used every other day for two weeks now and my legs feel so much better and I see a reduction in the veins as well as cellulite. My husband has also used it for his sore muscles after working out and loves it as well may have to buy him his own lol. The suction is strong and the heat is hot enough to get the job done without being unbearable." - LJ Granger. Chicago, IL
SAY GOODBYE TO JOINT PAIN 
The multiple massager nodes will knead together and relieve pain, knot, and muscle tension, like the hands of a real masseuse. The massager fits perfectly into the contours of your body, such as the neck, shoulders, waist, and legs. 
It's easy to use and can be used on the face, neck, back, arms, and legs - wherever massage/stretching and relaxation is required. 
Absorbs aerobic exercise to the skin and adipose tissue, increases lymphatic acid function, and accelerates blood circulation. Magnetic physiotherapy eliminates inflammation, pain, fatigue, promotes recovery, and relaxes your body after a tiring day.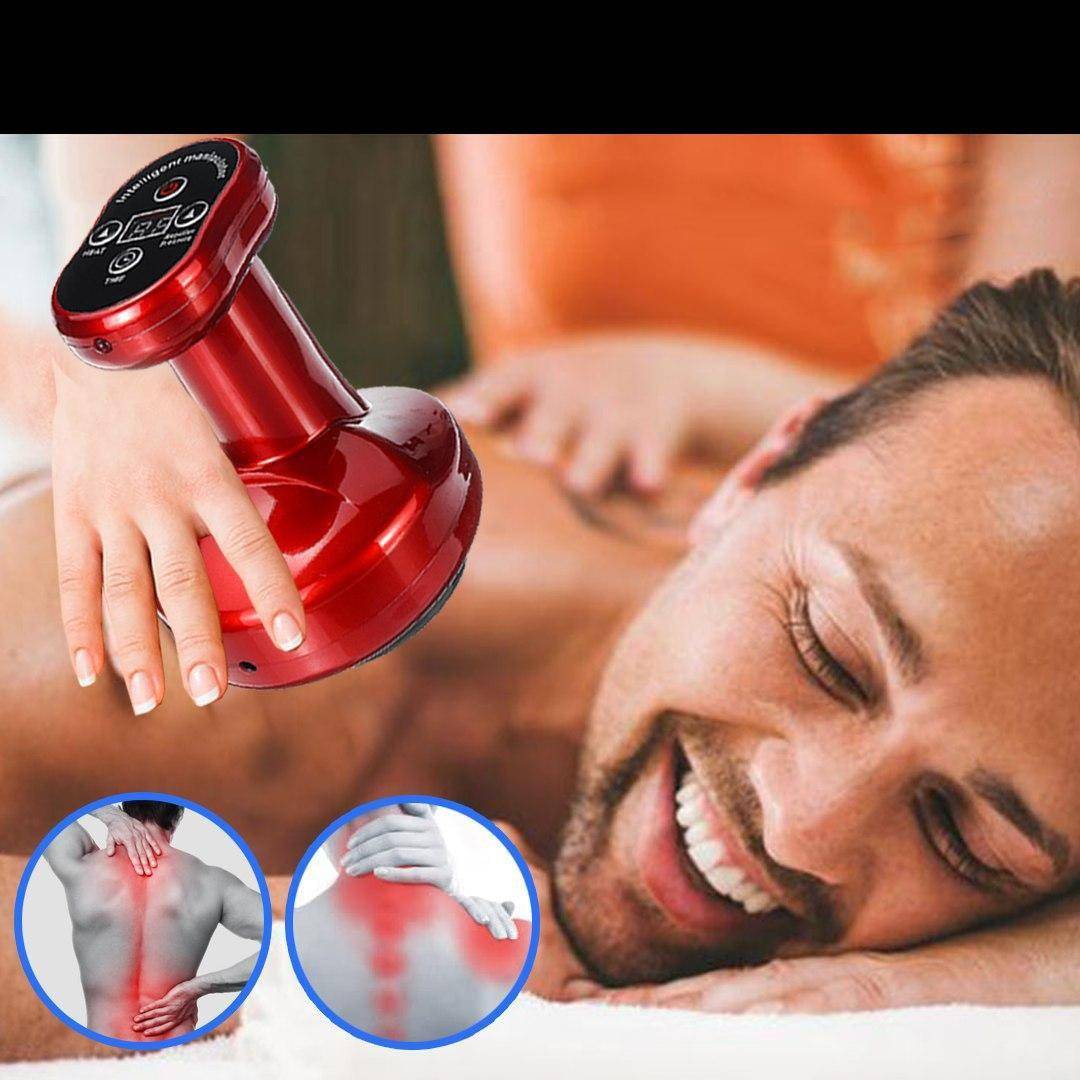 WHY DO I NEED THIS Dr. Rejuvenate™️?
Our day-to-day lives can cause us to build up tons of tension throughout our bodies. Over time, this tension builds up and can cause serious discomfort, it's incredibly unhealthy to live with these sensations. That's why we have this best back massager that can massage your back just like fingers!
--
Our Dr. Rejuvenate™️ gua sha massage and cupping machine can effectively relieve symptoms such as brain fatigue, insomnia, dreaminess, dizziness, headache, and more!  
This scraping massage gently scrapes along the surface of your back areas where tension, scar tissue, adhesions or other types of congestion exist in order to remove restrictions of circulatory flow in the area. 
Contrary to cupping, which creates reverse-pressure by suction, our gua sha tools can clear stagnation and assist flow from the top down. The electric back massager improves sleep quality and helps you combat fatigue and feel more energized all day. 
Constant temperature heating of the electric massager can deeply relax your stressed muscles and also increase blood flow and circulation. The touch switch and non-slip handle design of this personal massager make it easy to operate. Small and portable massager, you can use it anytime and anywhere you go!
AN ANCIENT CHINESE THERAPY, REVOLUTIONIZED!
The benefits of cupping therapy are endless!
The hand-held Electric Cupping Machine is a combination of tradition and technology. This device makes cupping therapy as easy as 1,2,3!
The suction and negative pressure provided by  cupping can loosen muscles, encourage blood flow, and sedate the nervous system (which makes it an excellent treatment for high blood pressure) 
Cupping is used to relieve back and neck pains, stiff muscles, anxiety, fatigue, migraines, rheumatism, and even cellulite.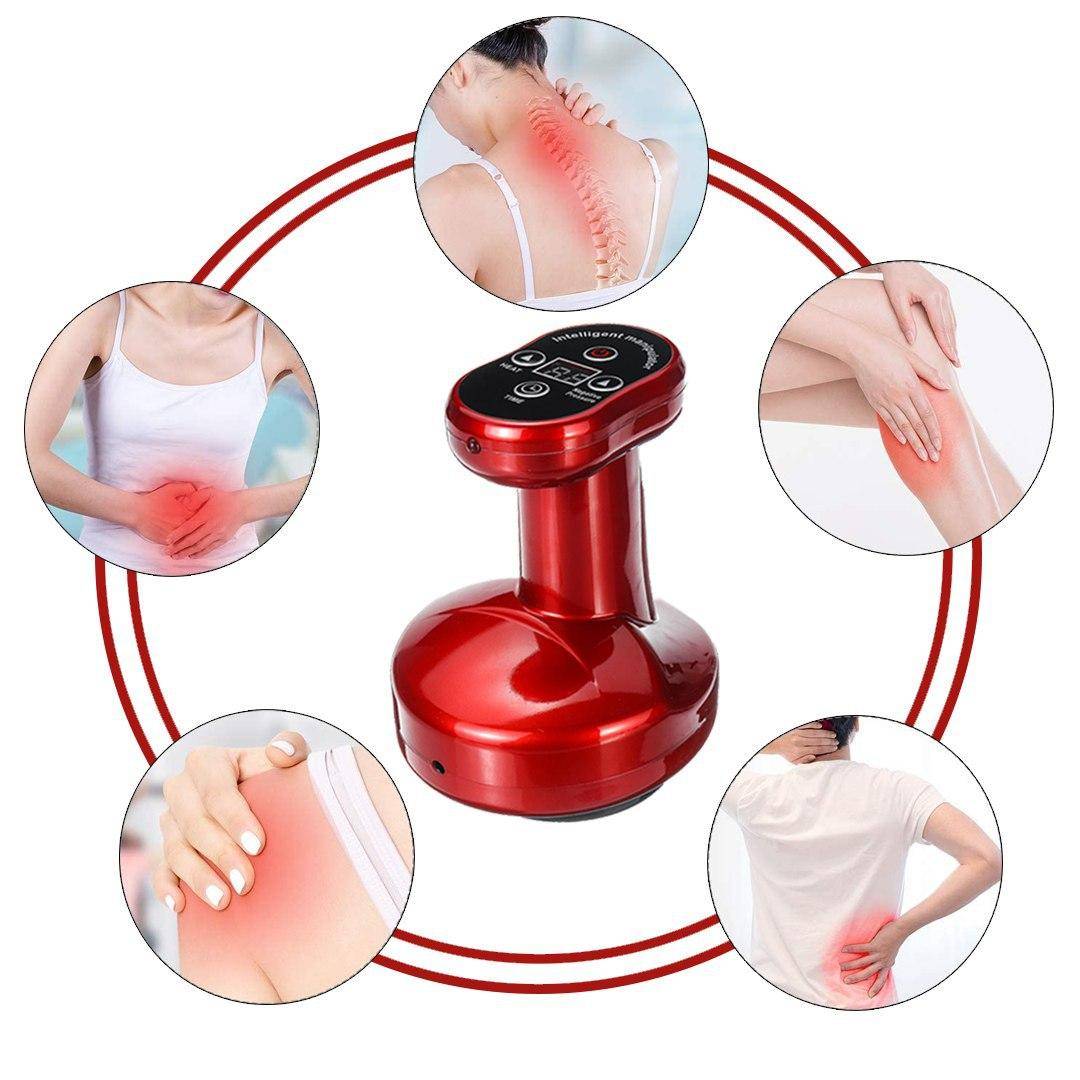 Cupping Massager Benefits
WHAT IS CUPPING?

Cupping originated thousands of years ago, and is one of the oldest forms of manual therapy (I'm not going to take you through its history - the internet is your library if you're interested!). By placing a glass or a plastic cup onto the skin, the therapist creates a vacuum in the cup which draws the skin, muscle, and fascia up into the cup. This vacuum can be created with either a hand suction pump or a burning cotton wool ball. The latter is becoming less common in modern therapy due to the relative lack of control on the suction.

In Western medicine, Cupping is used as a direct clinical application. The therapist notes an area of restriction and applies the suction directly onto it to affect change. This is different to traditional Eastern methods which rely on affecting change in the line of meridians or "Qi" throughout the body. Used in conjunction with other massage treatments, Cupping is a useful tool to add into the treatment mix as it provides a different sensation and effectiveness, and thereby improving the overall results.

Cupping is used in the treatment of many types of muscle tensions, including common ailments such as neck pain, shoulder pain, tight trapezius, lower back pain, spinal congestion, and plantar fasciitis.

WHAT DOES CUPPING FEELS LIKE?

Contrary to the commonly-held impression, the suction of the cups does not hurt. In fact, most people find the sensation very pleasant, a sort of a release. The cups can remain in position for several minutes, or the therapist can glide them over the skin similar to the movements of a massage. This negative pressure is the opposite to a deep tissue massage – a pulling versus a pushing effect.


THE BENEFITS OF CUPPING

Relaxation: suction cups provide a negative pressure on the skin, muscles, and fascia. This is in contrast to the positive pressure of the deep tissue massage, and can be a very relaxing and soothing experience.

Promotes blood circulation speeds up muscle recovery. The negative pressure from the suction allows new blood to flow into that area of tissue with several benefits -

1. Provides a feeling of relief from physical and emotional tensions
2. Begins the healing and regeneration process - the exchange of blood allows the removal of toxins and dead cells
3. Enhances circulation
4. Warms the skin, and softens tissues to regain elasticity
5. Reduces inflammation

USEFUL APPLICATIONS OF CUPPING IN MASSAGE THERAPY

1. Cupping increases the blood flow and warms the skin, which makes makes it easier for the therapist to get into the 'knots' in your muscles.

2. Once the cup is removed, the skin relays information to the therapist about the underlying tissue. A darker patch on skin would indicate an area of restriction or adhesion in the muscles. It can then help the therapist to pinpoint exactly where to massage.

3. As Cupping is a less strenuous (but no less effective) form of therapy, it helps the therapist to prolong their ability to treat clients at a high level for a longer duration.

4. Cupping is used as part of a bespoke suite of massage treatments to improve your body's condition, which could include deep tissue, stretch therapy, "Gua Sha" (explanation for another time!), and a combination of different techniques depending on what is needed.
SEE WHAT OUR CUSTOMERS ARE SAYING